Delta Adapts: Creating a Climate Resilient Future
Latest News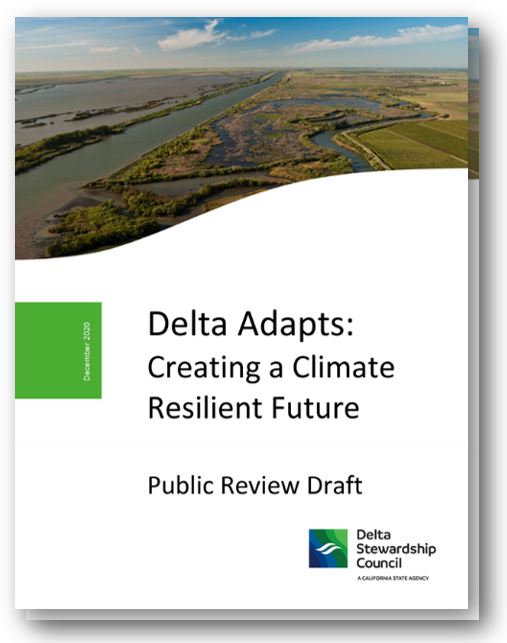 The public review period for the Delta Adapts Draft Vulnerability Assessment closed on March 16, 2021. A final draft is anticipated to be released in late spring. The draft Vulnerability Assessment evaluates the vulnerability of the Delta and Suisun Marsh to climate impacts through end of century. Supporting technical materials for the Vulnerability Assessment were also available for public review.
Documents available for review include:
For an introduction to Delta Adapts and a summary of the vulnerability assessment, see the Delta Adapts Story Map and watch the YouTube video.
As part of the Delta Adapts initiative, the Council created a custom social vulnerability index to identify areas within the Delta that are socially vulnerable to climate change impacts. For more detail on the factors considered in the index or the identified areas, see the Delta Social Vulnerability Index interactive map. The Council also created a flood explorer map which allows users to select various flood scenarios to visualize areas exposed to flooding, as shown in https://deltascience.shinyapps.io/delta_flood_map.
Background
California relies on the Sacramento-San Joaquin Delta in many ways. It supplies a portion of the drinking water for 27 million Californians, fuels California's $3 trillion economy, and is a biodiversity hotspot for more than 750 plant and animal species. Changes in climate put the state's water supply, economy, and biodiversity at risk—decreasing water quality and increasing stress on levees that protect residents, farmland, and the state's network of public utilities from mass flooding, and the species who thrive in the region's ecosystems.
As the world continues to feel the pressures of climate change and experience hotter temperatures, regional adaptation rooted in science-based decision-making is more critical than ever. We have to move quickly, and we have to move together to both plan and respond.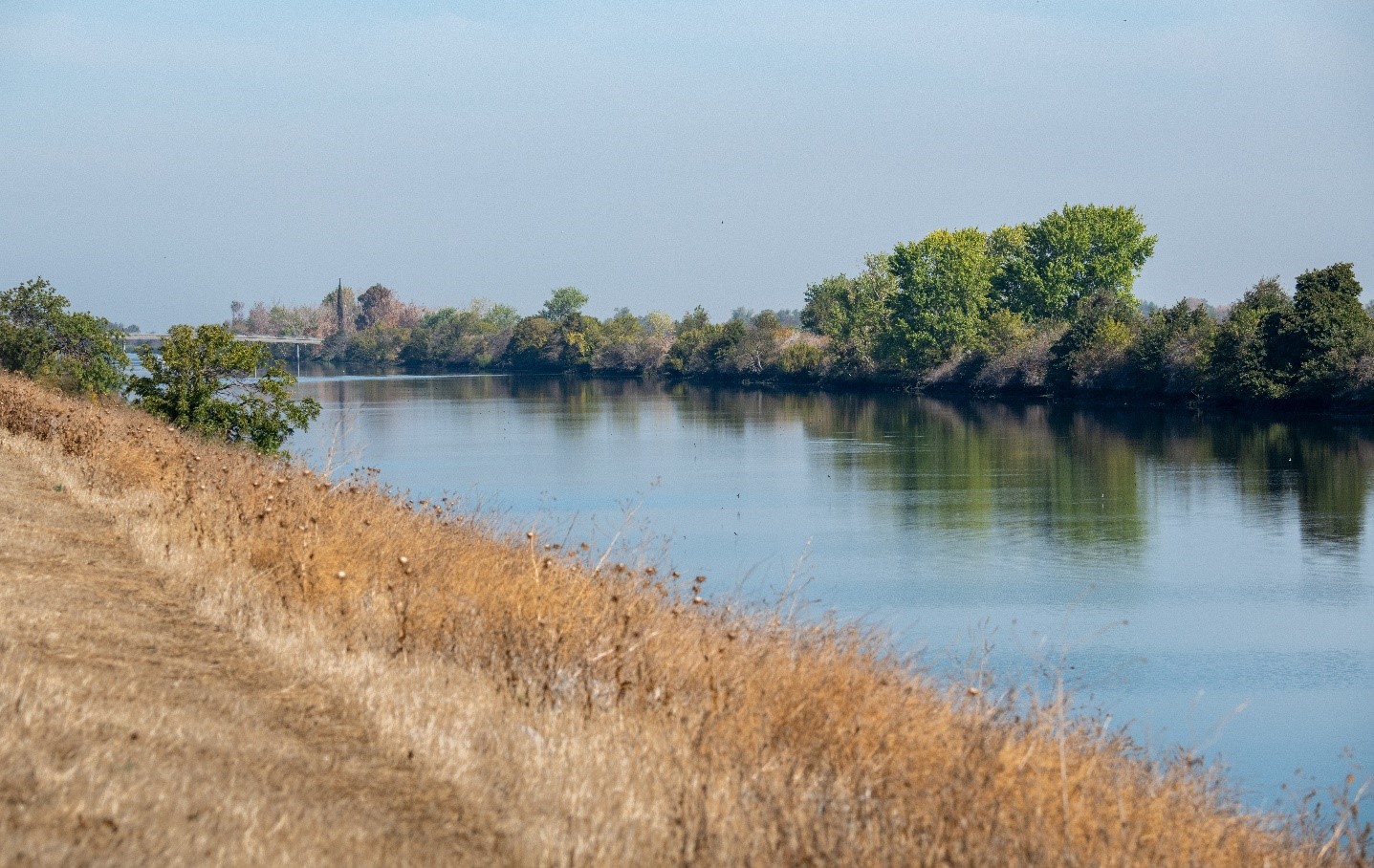 The Delta Stewardship Council decided to take action in the Delta and Suisun Marsh in response to climate change at its May 2018 meeting, directing staff to begin a two-phase effort preparing:
a vulnerability assessment to improve understanding of regional vulnerabilities in order to protect the vital resources the Delta provides to California and beyond with state interests and investments top of mind, followed by
an adaptation plan detailing strategies and tools that state, regional, and local governments can use to help communities, infrastructure, and ecosystems thrive in the face of climate change.
Together, these two phases form the Delta Adapts: Creating a Climate Resilient Future initiative, a comprehensive, regional approach to climate resiliency that cuts across regional boundaries and commits to collaboration across state, local, and regional levels.
Delta Adapts supports:
The Delta Reform Act, passed by the California Legislature in 2009, which mandates the consideration of "the future impact of climate change and sea level rise" in restoration planning and identifies a restoration timeline horizon of 2100. The Act also notes that the Delta Plan may address "the effects of climate change and sea level rise on the three state highways that cross the Delta."
Executive Order B-30-15, signed by Governor Brown in April 2015, which requires California state agencies to incorporate climate change into planning and investment decisions. It also requires agencies to prioritize natural infrastructure and actions toward climate preparedness among the most vulnerable populations.
The Delta Plan, adopted by the Council in 2013, which serves as California's roadmap for the region in support of the coequal goals of a reliable statewide water supply and resilient Delta ecosystem. Research on climate change has advanced significantly since the Delta Plan's adoption, with important implications for the Council as it seeks to fulfill its mission of furthering the coequal goals—which are sure to be continuously impacted by climate change.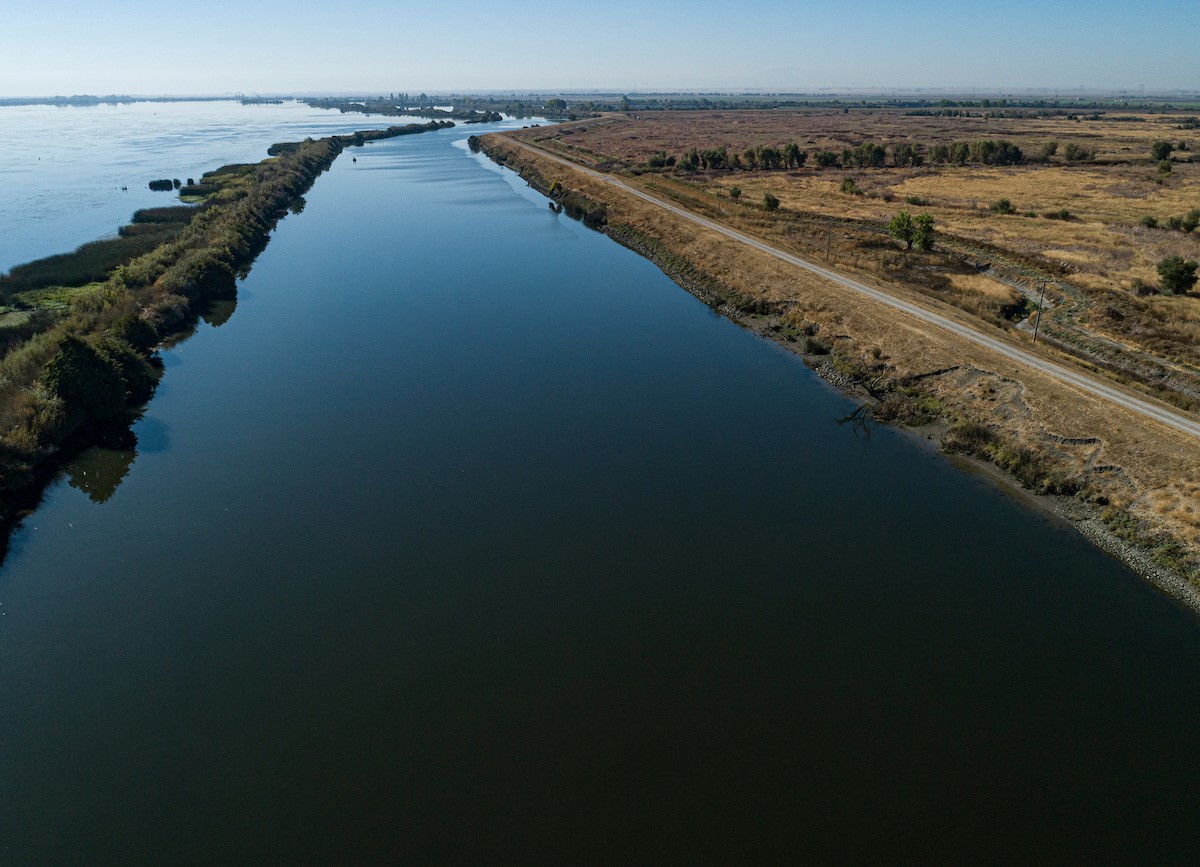 As an agency of experienced planners, engineers, scientists, and communicators, the Council is uniquely equipped – and authorized – to steward the region toward resiliency. The Council regulates actions to ensure they support statewide water supply reliability and Delta ecosystem resiliency, and has the resources needed to guide climate adaptation in the region. Through its strong working relationships with government agencies on the federal, state, regional, and local levels, the Council has the ability to influence action in the Delta to improve its resilience over time and communicate the statewide implications of anticipated regional impacts.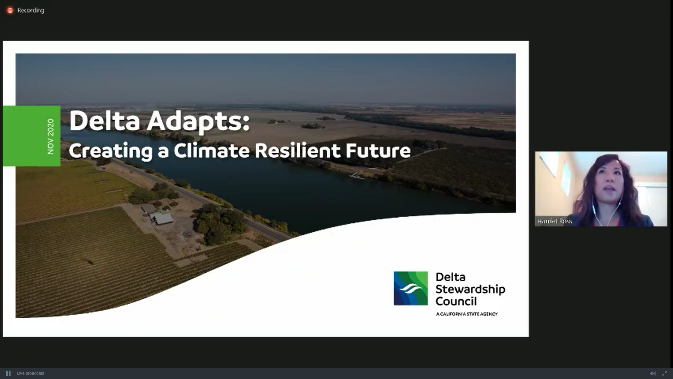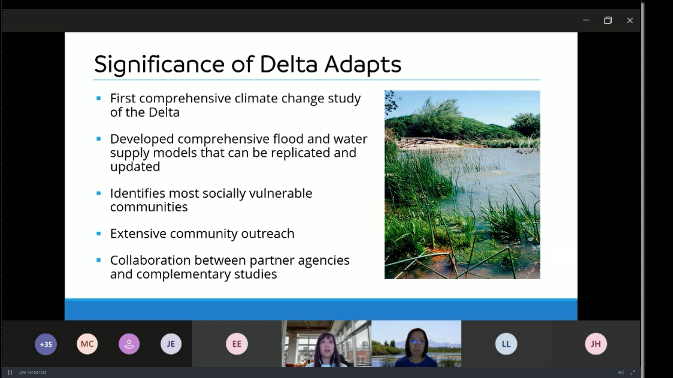 The Council's role in Delta Adapts has three core elements. It is:
The convener bringing various partners together to work as part of a broader team,
The initiator of the regional planning process, and
An active participant collaborating with a robust group of experts and interested stakeholders.
Goals and Process
The goals of Delta Adapts are to:
Inform future work at the Council;
Provide local governments with a toolkit of information to incorporate into their regulatory and planning documents;
Integrate climate change into the state's prioritization of future Delta actions and investments; and
Serve as a framework to be built upon by the Council and others in years to come.
Council staff are pursuing these goals across the two phases, while following the statutory requirements outlined in the Delta Reform Act of 2009. Delta Adapts will consider climate change impacts that are expected to occur and amend the Delta Plan, where applicable.
The first phase is a vulnerability assessment characterizing climate change stressors as well as potential physical hazards posed by these stressors.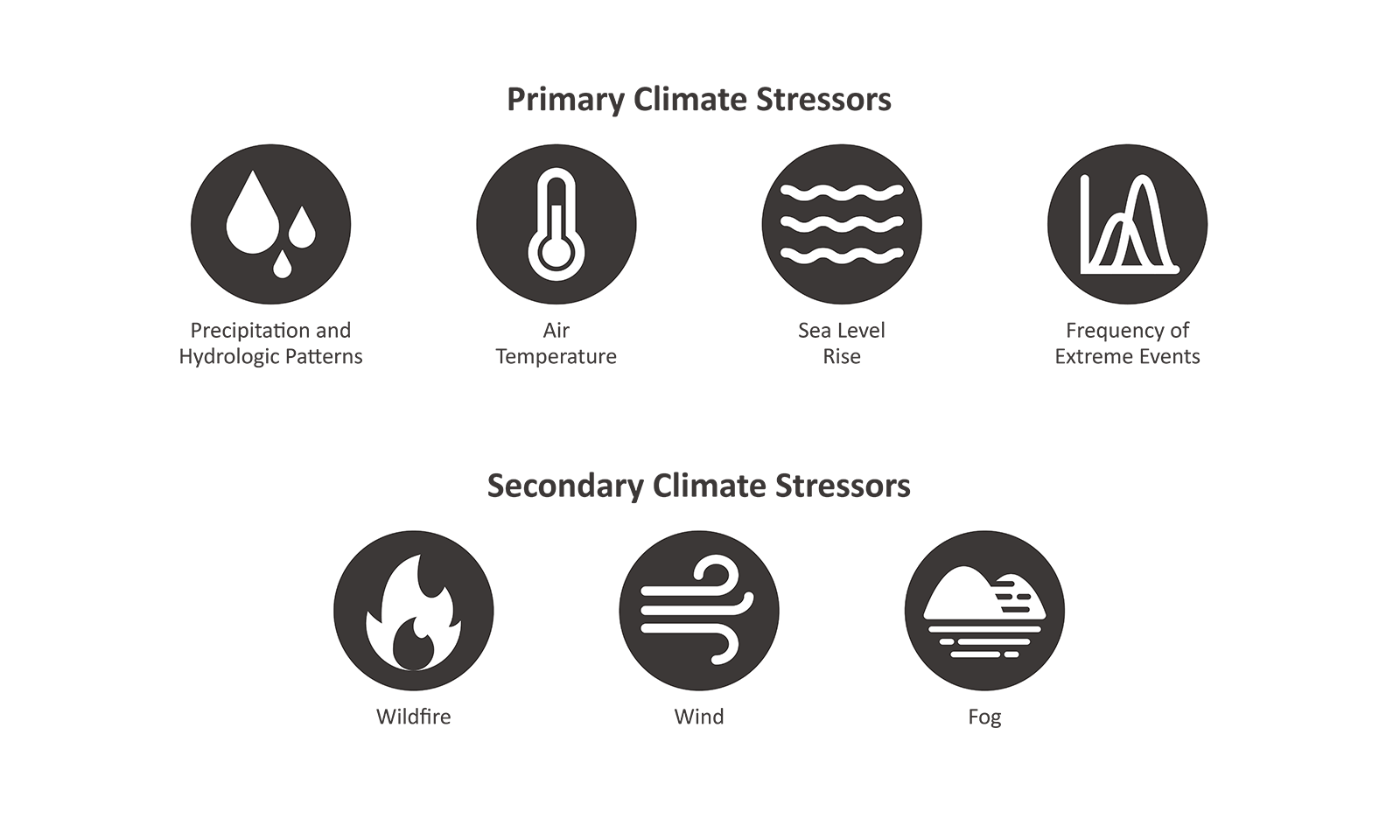 The vulnerability assessment will assess risks posed by these hazards to a variety of regional assets, including: residents (including vulnerable communities), agriculture, community facilities and services, water management and flood control infrastructure, parks and recreation, transportation, water supply, and ecosystems. Council staff are currently in the first phase of the Delta Adapts initiative.
The second phase is development of an adaptation strategy identifying a range of policy and management actions that could be taken, both by the Council and others, that would improve regional resilience to climate change. This "toolkit" of adaptation strategies will identify thresholds for vulnerability by region and interim adaptation targets between 2020-2100 (planning horizons may include 2030, 2050, and 2100) to enable achievement of the following resilience goals.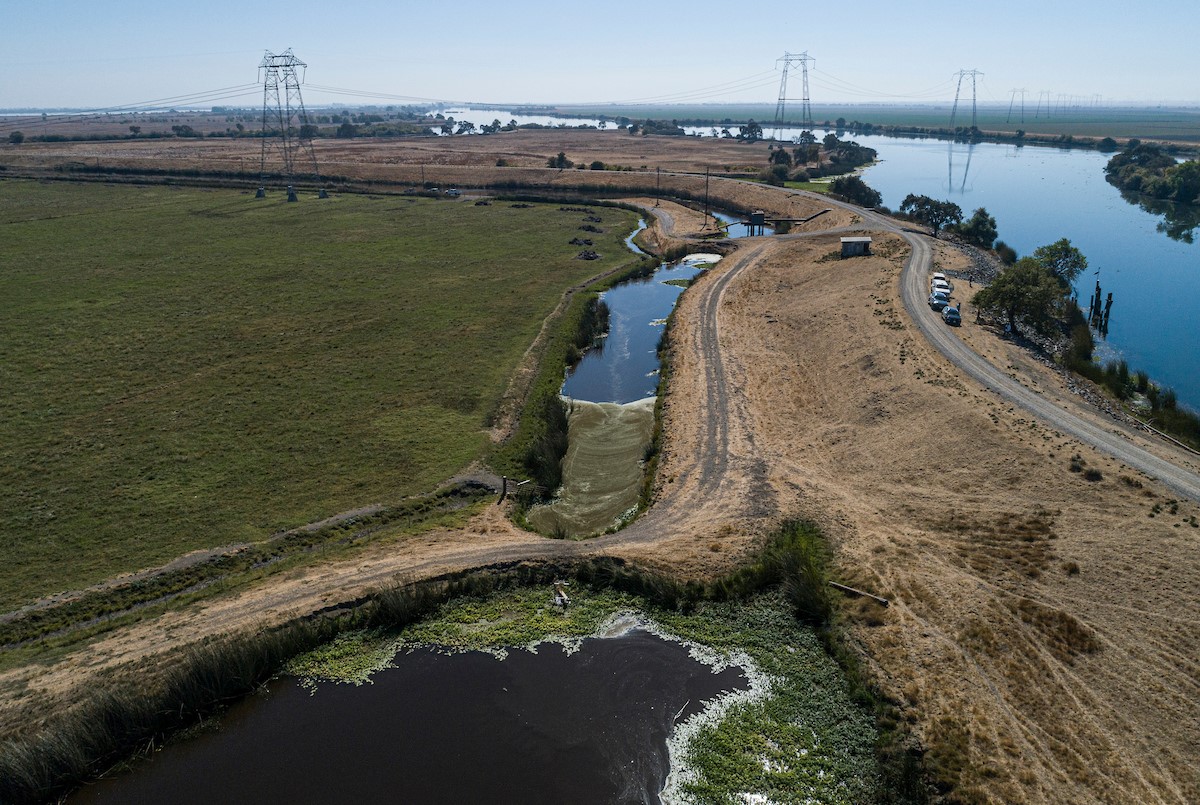 Relative costs of implementation and prioritization of actions will also be included in the development of the adaptation strategy.
While the Council is leading these two phases, both phases are being developed in partnership with technical experts, state and local governments, and community representatives to ensure the use of best available science, to allow for broad engagement in the planning of the initiative, and to reflect the broad range of stakeholder interests in the Delta. To promote the exchange of information between these groups, Council staff established a Stakeholder Work Group (SWG). In addition to the SWG, a Technical Advisory Committee (TAC) provides expert knowledge, review, and guidance throughout the development of Delta Adapts. The TAC includes the following experts from public agencies, academic institutions, non-profit organizations, the private sector, and individuals with particular knowledge of climate change, the Delta, and its resources.
John Andrew and Lindsay Correa, California Department of Water Resources Climate Change Program
Dana Brechwald, San Francisco Bay Conservation and Development Commission
Casey Brown, University of Massachusetts Hydrosystems Research Group
Dan Cayan, Scripps Institute of Oceanography
Gilbert Cosio, MBK Engineers
Steve Deverel, Hydrofocus
Virginia Gardiner, Delta Protection Commission
Michael George, State Water Resources Control Board Delta Watermaster
Ted Grantham, UC Berkeley Natural Resources Conservation
John Herman, UC Davis School of Engineering
Nuin-Tara Key, Governor's Office of Planning and Research
Noah Knowles, United States Geological Survey
Josue Medellin-Azuara, UC Merced
Brett Milligan, UC Davis Department of Human Ecology
Stuart Siegel, San Francisco State University
Brian Vaughn and Michael Kent, Yolo County Health & Human Services Agency and Contra Costa Health Services Hazardous Materials Commission
Sam Veloz, Point Blue
Additional Materials
Engage
To learn more about Delta Adapts, its SWG, or other ways to engage in our process, contact climatechange@deltacouncil.ca.gov.