11th Biennial Bay-Delta Science Conference
When & Where
Date: April 6-9, 2021
Location: Virtual (details TBD)
About the Conference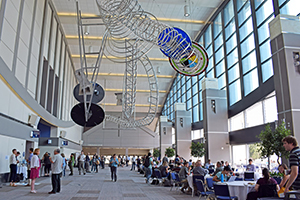 The biennial Bay-Delta Science Conference is jointly sponsored by the Delta Stewardship Council (Council) and U.S. Geological Survey (USGS) as a forum for presenting scientific analyses and results relevant to management of the San Francisco Bay and Sacramento-San Joaquin Delta. The goal of the conference is to provide new information and syntheses to the broad community of scientists, engineers, resource managers, and stakeholders working on Bay-Delta issues.
The conference program will feature a range of topics relevant to the Bay-Delta science, management and decision-making community. This year's conference theme is "Building Resilience through Diversity in Science."
Registration will be announced in early 2021 though the Council's listserv. Subscribe to receive e-mail updates.
Conference Participation
There will be several ways to participate in the conference. We are seeking abstracts and proposals for talks, posters, special talk sessions, special poster clusters, and art! Presentations by students will be eligible for student awards.
Please read the 2021 Call for Abstracts carefully for important background information, submission instructions, and conference topics before submitting an abstract or proposal. Links to submit abstracts will be posted and announced in late November 2020.
Submission Due Date:
All abstracts for oral sessions (special and general), posters (including clusters), and art are due December 28, 2020 by 8:59 PM. Submission links will be available in late November 2020.
The Brown-Nichols Science Award
The Brown-Nichols Science Award was established in 2008 in honor of the significant contributions of Dr. Randall Brown and Dr. Frederic Nichols. Each made substantive contributions to science through research, by facilitating good science by others, and by communicating science to managers and policy makers in the San Francisco Estuary and watershed. Together, they laid the foundations for the first Bay-Delta Science Conference.
The award is given to recognize the contributions of a scientist for significant research and active involvement in facilitating the use of science to manage the San Francisco Estuary and watershed. Recent awardees include:
Dr. Ted Sommer from the California Department of Water Resources (2018),
Dr. Jeffrey Mount from the Public Policy Institute of California's Water Policy Center (2016), and
Dr. Anke Mueller-Solger from the Interagency Ecological Program (2014).
The next award recipient will be announced at the 2021 Bay-Delta Science Conference. Nominations for the Brown Nichols Science Award are due by January 11, 2021. View the nomination instructions.
Questions?
Please direct questions to BDSC@deltacouncil.ca.gov.