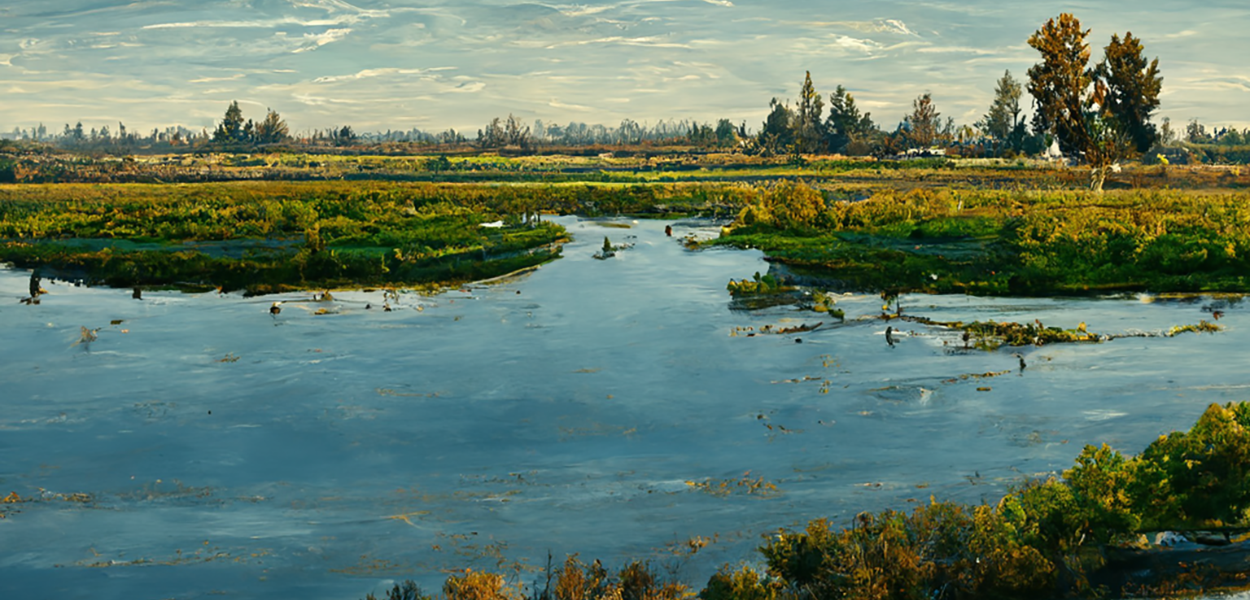 The Delta Plan Ecosystem Amendment: Updated Vision and Guidance for Restoration
September 22, 2022
By Environmental Scientist Annie Merritt and Environmental Program Manager Dan Constable
At its June 23, 2022 meeting, the Delta Stewardship Council adopted an amendment to Delta Plan Chapter Four (Protect, Restore, and Enhance the Delta Ecosystem), referred to as the Ecosystem Amendment. The Ecosystem Amendment is the result of a multi-year, iterative effort of public and agency outreach and coordination, and it leverages decades of research and planning to identify a path forward, increase coordination, and work toward a common vision for a restored Sacramento-San Joaquin Delta ecosystem.
The Delta Reform Act of 2009 called for the Delta Plan to provide a long-term approach to restoring habitat within the Delta and its watershed by the end of this century. This approach must advance the State's coequal goals of providing a more reliable water supply for California and protecting, restoring, and enhancing the Delta ecosystem — in a way that protects and enhances the unique cultural, recreational, natural resource, and agricultural values of the Delta as an evolving place.
Adopted in 2013, the Delta Plan initially relied on the emerging Bay-Delta Conservation Plan (BDCP) to provide a framework for ecosystem restoration in the Delta. When the State pivoted away from the BDCP in 2015 and split it into the California EcoRestore and WaterFix projects, significantly reducing the scale of restoration targets, it became critical that the Council fill the resulting gap and amend the Delta Plan to provide a framework to guide regional restoration efforts, considering changes in land use, climate, and regulations, and incorporating the latest restoration science and practices. In June 2022, the Council amended the Delta Plan to provide a comprehensive approach to ecosystem protection, restoration, and enhancement in the Delta.
While the main objective of amending the Delta Plan was to provide a framework for achieving restored, protected, and functioning Delta ecosystems, an important component of this framework is ensuring that ecosystem restoration is implemented in a way that enhances the Delta as a unique place — promoting and protecting the Delta's human communities, including its cultural, recreational, and agricultural values, along with the Delta's natural resources. The amended Chapter Four promotes implementing restoration in a way that provides direct social benefits to Delta communities, minimizes conflicts to surrounding communities and land uses, and promotes proactive consultation and coordination with Native American tribes.
While the Council does not design, construct, or manage projects, our role is to provide guidance and consistency for ecosystem restoration and protection projects that meet certain criteria — known as covered actions — through a process to certify consistency with the Delta Plan. The amended Chapter Four refines existing guidance and proposes new guidance for project proponents, and local, State, and federal agencies engaged in restoration activities as a funder, permitting agency, or stakeholder through five core strategies to protect, restore, and enhance the Delta ecosystem:
Core Strategy 1: Create more natural, functional flows.
Core Strategy 2: Restore ecosystem function.
Core Strategy 3: Protect land for restoration and safeguard against land loss.
Core Strategy 4: Protect native species and reduce the impact of non-native invasive species.
Core Strategy 5: Improve institutional coordination to support the implementation of ecosystem protection, restoration, and enhancement.
Under the framework of these core strategies, the Ecosystem Amendment includes new and revised policies, recommendations, and mitigation measures aimed at ensuring that ecosystem restoration incorporates social considerations. For instance, a new regulatory policy requires certifying agencies to demonstrate and disclose contributions to restoring ecosystem function and providing cultural, recreational, agricultural, and/or natural resource benefits expected to result from the project. This could include benefits related to…
Environmental justice: for example, would the project redress existing environmental inequities in disproportionately impacted communities?
Human health and wellbeing: for example, would the project improve air quality, water quality, or environmental quality in a manner that is expected to protect or enhance human health and well-being?
Protection of ecocultural resources: for example, would the project engage tribes in a way that respects sovereignty and protects or enhances access to natural resources?
Various new and revised Delta Plan recommendations and mitigation measures complement this new policy. For example, the amended Delta Plan encourages restoration project planners to use a 'Good Neighbor Checklist' to avoid or reduce conflicts with existing land uses and surrounding communities, helping support agricultural communities, reinforce the benefits of conservation partnerships, reduce conflict and project delays, and achieve sustainable conservation. The Good Neighbor Checklist also considers issues essential to environmental justice, such as monitoring and mitigating project-related changes to local water quality and quantity to protect beneficial water uses from harmful algal blooms, nitrates, phosphorous, and methylmercury.
Other recommendations and mitigation measures promote early and proactive coordination and consultation with Native American tribes and treatment of tribal cultural resources and landscapes in restoration project processes. This coordination is intended to improve project design, resiliency, and respect, as well as enhance cultural values and integrate traditional and local knowledge. For example, the amended Delta Plan recommends that the Delta Plan Interagency Implementation Committee increase tribal engagement and input in planning conducted by agencies responsible for implementing ecosystem restoration and protection projects in the Delta. Additionally, Delta Plan mitigation measures — which covered actions must incorporate or adopt equally effective mitigation measures — require coordination with interested California Native American tribes early in the restoration project planning phase, participation in a Cultural Resources/Tribal Cultural Resources Awareness and Sensitivity Training Program, and tribal consultation to identify and evaluate the presence and significance of tribal cultural resources and landscapes.
With these amended elements of the Delta Plan, we hope to help increase ecosystem restoration in the Delta while balancing these gains with social and economic benefits. Through this process, we've learned that restoration projects are most effective when coordinated with local, State, and federal parties, and when they are implemented at the appropriate location and scale — as much of the Delta is comprised of privately owned, agricultural land, with large areas below sea level. The Ecosystem Amendment sets a vision and guides restoration, but achieving a restored ecosystem will take a political, societal, and financial commitment to increase the pace and scale of restoration in the Delta. While we took initial steps to incorporate social considerations and environmental justice in this amendment, the Council is currently developing an Environmental Justice Issue Paper to investigate the need for additional strategies or responses to address this issue within the Delta Plan and the Council's work.
The amended policies and mitigation measures included in the Ecosystem Amendment will not be effective until the completion of the rulemaking process — the process to codify the amended policies and mitigation measures into the California Code of Regulations — which will include additional opportunities for public engagement. Staff has also begun tracking the amended Performance Measures, which measure progress on achieving the new vision set forth in the Ecosystem Amendment (the amended performance measures will be posted in December 2022). More information, including the amended Delta Plan documents and a digital overview, can be found on the Delta Plan Amendments web page.
---
About the Authors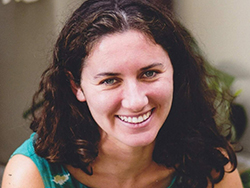 Annie Merritt
Annie is an environmental scientist in the ecosystem restoration, land use, and science integration unit within the Council's planning and performance Division. She supports various projects including the Delta Adapts climate adaptation initiative, environmental justice issue paper, and regulatory review of covered actions. Prior to her current position, Annie served as a CivicSpark Climate Fellow with the Council, supporting climate vulnerability and adaptation planning and associated community engagement. She often rides the Capitol Corridor train through Suisun Marsh — the largest contiguous brackish water marsh remaining on the west coast of North America — and is reminded of the challenges of balancing ecosystem protection with human uses. Annie has a B.S. in environmental science and management from the University of California, Davis.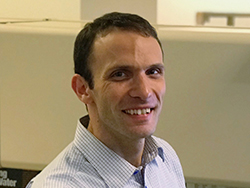 Dan Constable
Dan is an environmental program manager in the Council's planning and performance Division. He leads the ecosystem restoration, land use, and science integration unit at the Council and is involved in a range of projects focused on these topics, including ecosystem restoration policy, climate change adaptation planning, and water resources. Prior to State government, Dan worked in transboundary water governance, biodiversity conservation, and policy across Southeast Asia. He previously worked in the non-profit and private sectors. Dan holds a master's in environmental management from Yale University and a B.S. in environmental resource sciences from the University of California, Davis.