Climate Change Vulnerability Assessment and Adaptation Strategy
Purpose and Background
At its May 24, 2018 meeting, the Delta Stewardship Council directed staff to begin preparing a Climate Change Vulnerability Assessment (CCVA) and Adaptation Strategy (AS) for the Sacramento-San Joaquin Delta and Suisun Marsh. This work will provide critical support to the Delta Stewardship Council (Council) to improve understanding of regionally specific climate change risks and address how Delta communities, infrastructure, and the ecosystem can adapt to future conditions.
The Delta Reform Act (Act) specifies consideration of "the future impact of climate change and sea level rise" in restoration planning (Water Code Section 85066) and identifies a restoration timeline horizon of 2100 (Water Code Section 85302). The Act also notes that the Delta Plan may address "the effects of climate change and sea level rise on the three state highways that cross the Delta" (Water Code Section 85307). More generally, Executive Order B-30-15, signed by Governor Brown in April 2015, requires state agencies to incorporate climate change into planning and investment decisions. Also, agencies are required to prioritize natural infrastructure and actions for climate preparedness and protection of the most vulnerable populations.
Since the Delta Plan was adopted in 2013, research on climate change has advanced significantly, with important implications for the Council as it seeks to further the coequal goals. Climate change is already altering the physical environment throughout the Delta. Over the long term, climate change in the Delta is expected to adversely affect human health and safety, lead to economic disruptions, diminish water supply, degrade water quality, shift ecosystem function and habitat qualities, and make it more difficult for government agencies to provide basic services. Many of these impacts will disproportionately affect disadvantaged communities, including those located within the Delta.
Objectives
Inform future Delta Plan amendments and implementation
Help the state prioritize future actions and investments
Provide a toolkit of information for local governments to use and implement in their regulatory documents (what hazards a community is vulnerable to) and adaptation strategies for each hazard
Serve as a framework to be built upon in the future by the Council and others
Overview and Process
The general project scope reflects statutory requirements of the Act, assets and resources considered in the Delta Plan, and existing Delta Plan policies, recommendations, and performance measures. The project will apply state agency guidance on climate change to the Delta. This will include guidance from the Governor's Office of Planning and Research (OPR), the California Ocean Protection Council, the California Natural Resources Agency, and the California Coastal Commission for local and regional government engagement and planning.
The graphic below shows the process for developing the CCVA and AS. The Council is currently completing steps 2 and 3: taking inventory of assets and resources and assessing vulnerability. While the Council may monitor portions of the adaptation plan, it is anticipated that implementation of the plan will be undertaken by other agencies.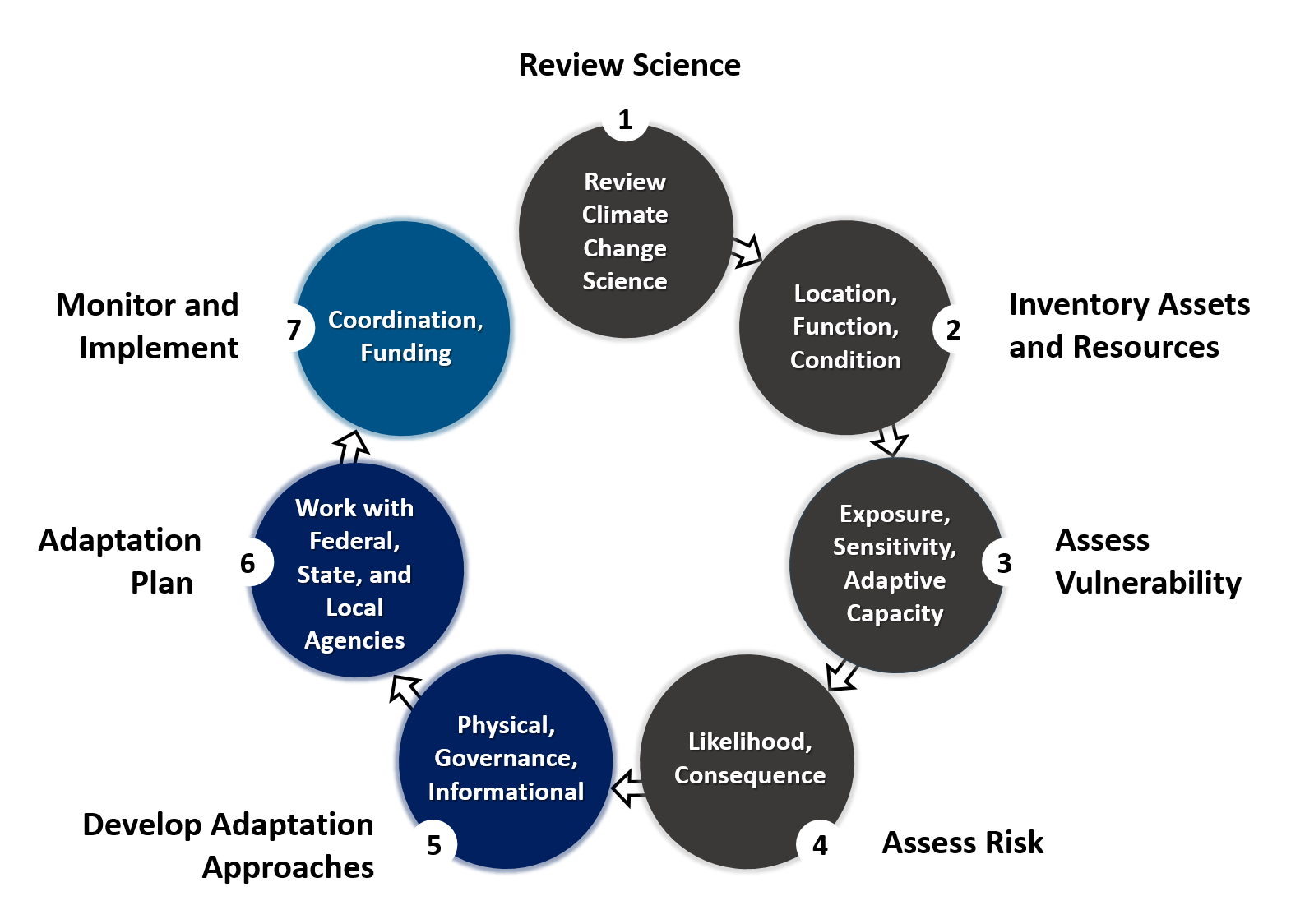 The project consists of two phases:
Phase 1: Climate Change Vulnerability Assessment (CCVA)
Based on the best available scientific technical information, guidance, and stakeholder engagement, the project will assess climate vulnerability and risk to key sectors, assets and resources, and services. The CCVA will characterize climate change impacts resulting from sea level rise, variations in precipitation and runoff patterns, and changes in air and water temperatures. Climate change impacts from wildfire, wind, and fog will be addressed qualitatively. The graphic below shows the primary and secondary climate stressors that will be analyzed.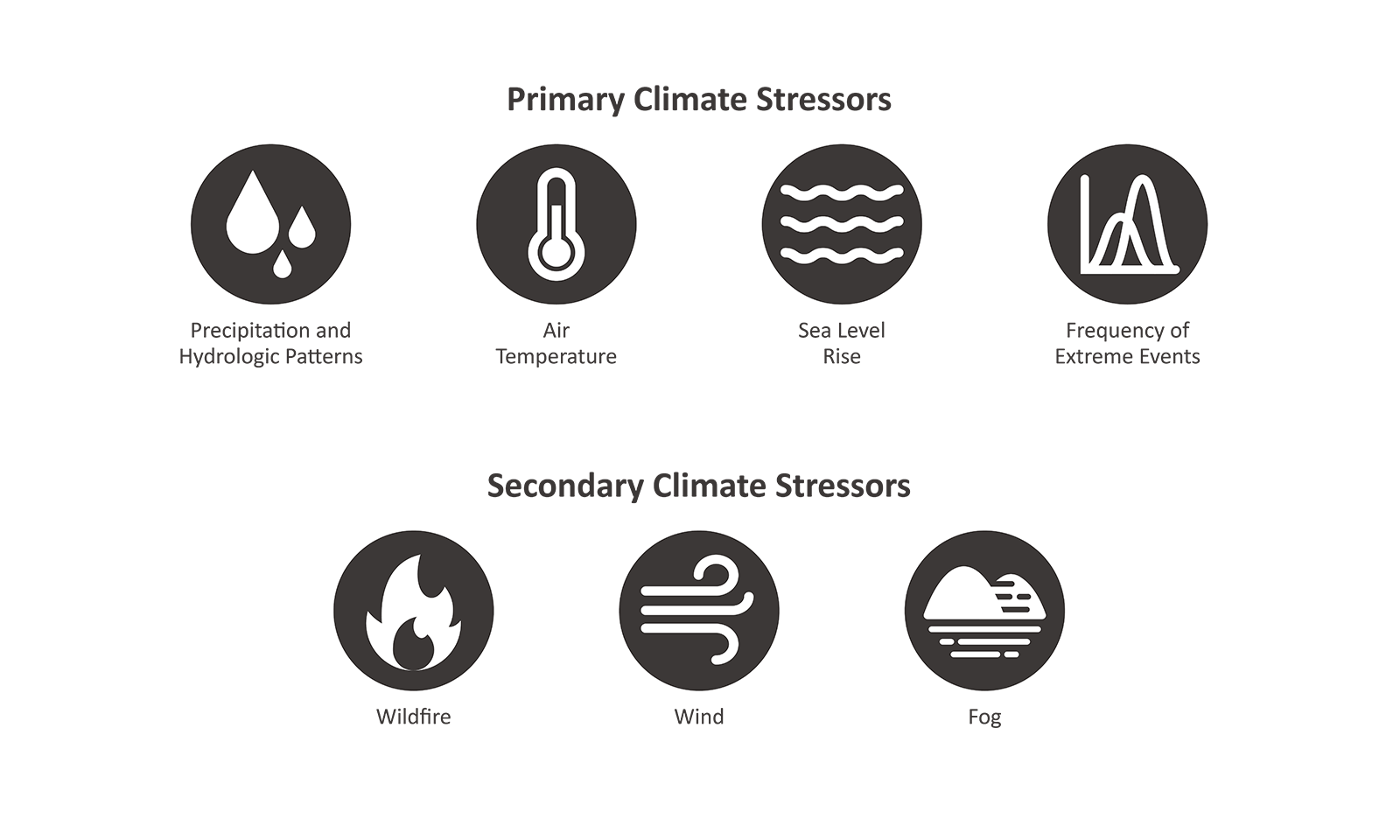 Asset sectors to be considered include: water supply and flood management infrastructure, water quality, ecosystems, agriculture, cultural resources, buildings and facilities, parks and recreation, transportation, energy and utilities, and human populations, with particular focus on vulnerable communities. For each asset sector, the CCVA will assess risk of exposure to climate change impacts, sensitivity to climate change, and adaptive capacity and resources to cope with, adapt to, or recover from climate impacts.
Phase 2: Adaptation Strategy (AS)
In this phase, the project will evaluate alternative responses that could be implemented in the Delta region or elsewhere. The AS will also provide a toolkit of policy and management actions that state and local agencies could undertake related to each asset sector. Local agencies will be able to decide which adaptation actions are appropriate to implement in their community. Adaptation strategies will enable achievement of resilience goals.
Both the CCVA and AS will identify thresholds for vulnerability, and identify interim adaptation targets between 2020-2100. Planning horizons may include 2030, 2050, and 2100.
Roles
In addition to the Council, the following two groups will provide input and guidance to Council staff and consultants throughout the project:
A Technical Advisory Committee comprised of experts from public agencies, academic institutions, non-profit organizations, the private sector, and individuals with particular knowledge of climate change, the Delta, and its resources will provide input on key analyses and findings.
A Stakeholder Workgroup representing Delta city/county planning or resource management agencies, community organizations, and interested stakeholders will provide local perspectives for the assessment and strategy, building a constituency for implementation.
The first Stakeholder Workgoup meeting was held on October 2nd, 2019. During this meeting, participants were asked the following questions:
How do you (or your organization) plan to utilize the Vulnerability Assessment?
How can the Council prepare the document to maximize its effectiveness?
What projects or planning efforts are you working on that are related to the Vulnerability Assessment?
Later, participants broke out into small groups to provide input on Delta assets in each of the following categories: natural resources, water supply and flooding, communities, and utilities and facilities. Participants were asked whether any asset types or categories were missing, and whether there were any missing data sources that should be referenced.
View the Stakeholder Workgroup meeting summary in PDF format. Contact Annie Merritt (Annie.Merritt@deltacouncil.ca.gov) for copies of the meeting presentation.
Engaging with local and regional Delta government agencies and communities is a fundamental objective of the project. Several local agencies have already adopted climate adaptation policies and recommendations, many of which seek regional collaboration on climate change and sea level rise planning (i.e., Solano County, San Joaquin County, Sacramento County, Yolo County, Contra Costa County, San Joaquin Council of Governments, Sacramento Area Council of Governments). Council staff will continue to engage these agencies to collectively identify adaptation strategies that advance state goals for the Delta while improving both local and regional resilience.
Resilience Goals
A set of draft resilience goals have been prepared and outline a broad, long-term vision of Delta values and priorities that should persist in the face of a changing climate. The resilience goals will be used throughout the project to evaluate adaptation options, identify trade-offs and synergies, and to prioritize adaptation options that would increase resilience of Delta assets. These draft goals are as follows:
Key Milestones
Phase 1 of the project began in Spring 2019 and will conclude with a final vulnerability assessment. Next steps will include preparing an adaptation strategy as part of Phase 2.

Get Involved!
Subscribe to the Council's listserv distribution list to receive project updates and more.